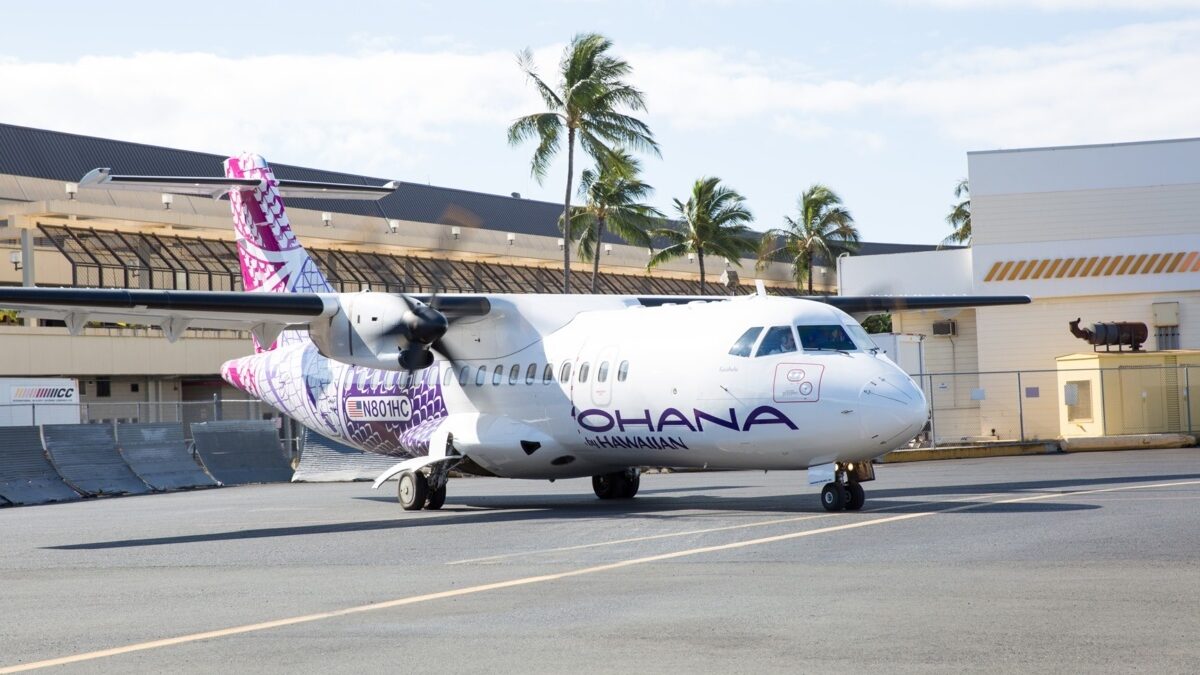 Hawaiian Airlines is temporarily suspending its 'Ohana by Hawaiian turboprop subsidiary due to low demand across its entire inter-island network.
Hawaiian was unable to maintain the turboprop service, because a provision in its contracts with pilots requires the cessation of turboprop flights, operated by third-party Empire Airlines, if inter-island jet services are significantly reduced, it says in a statement. The inter-island jet services have been cut drastically due to low travel demand because of the pandemic as well as quarantine restrictions enforced by the state of Hawaii, Hawaiian adds.
The airline has put almost 2,500 employees, including about 400 pilots, on unpaid leave with effect from start of October.
The airline says it had wanted to maintain its 48-seat ATR 42-500 flights from Honolulu to Moloka'i and Lāna'i, which are islands with populations of 7,345 and 3,102 people respectively. The only remaining air services to the islands are with Cessna Grand Caravan 208EX operator Mokulele Air, which has made a separate statement committing to filling the void left by 'Ohana.
'Ohana's inter-island freighter flights using Empire Airlines-operated ATR 72-212 freighters have also been temporarily suspended due to the labour provision in the jet pilots' contracts, it says. Empire Airlines is a US passenger and cargo operator based on Idaho that works for Hawaiian and other companies.
Mokulele Air and Trans Executive Air, which uses Short 360s alongside its jet fleet, are now the only cargo turboprop operators operating in Hawaii.
In March, 'Ohana also suspended its services from Honolulu to Kapalua, in West Maui, due to a fall in traffic.
Hawaiian says it foresees no significant recovery in inter-island travel anytime soon, which would allow it to resume 'Ohana turboprop services. But the Air Line Pilots Association says in a statement that it will exempt Hawaiian from the provision if the airline secures additional federal payroll support program (PSP) funding. An extension to PSP funding for airlines, which has yet to be announced by the US Congress, would allow Hawaiian to reinstate the employees currently on no-pay leave, it says.
The state of Hawaii requires a 14-day quarantine for all visitors, although talks are reportedly ongoing to allow travelers to choose to take a COVID-19 rapid test in lieu of quarantine. Statistics from the Hawaii's Department of Business, Economic Development & Tourism show that daily arrivals from the mainland US are down about 90% year-on-year.
According to its website, 'Ohana by Hawaiian's fleet comprises four ATR 42-500s and three ATR 72-212 freighters. Hawaiian Airlines operates Airbus A321neos, Airbus A330-200s, Boeing 717-200s and has ten Boeing 787-9s on order, it says.
Photo: Hawaiian Airlines
Edward Eng
Edward is based in Singapore. He writes stories on regional aviation across the Asia-Pacific region and has a background on covering socio-political issues. Edward holds a BA (Hons) in Philosophy, Politics and Economics from the University of Warwick in the UK.
Related posts
SUBSCRIBE TO OUR NEWSLETTER