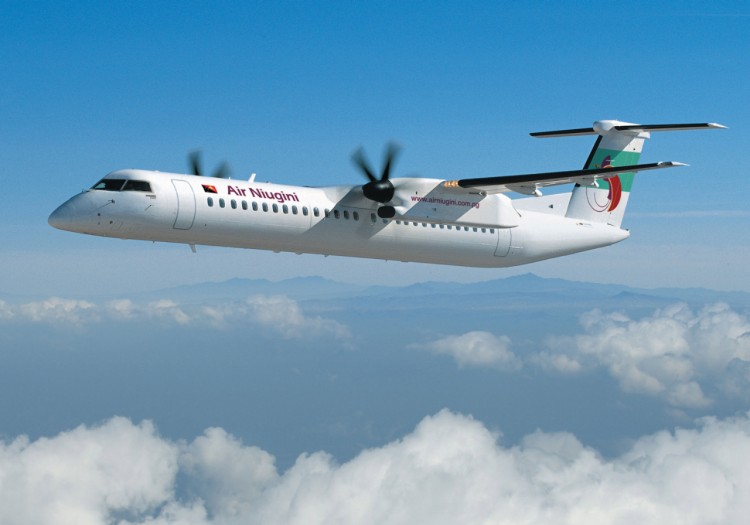 Papua New Guinea's (PNG) national carrier Air Niugini has resumed operating De Havilland Canada Dash 8-400 turboprops following a three-year hiatus.
The airline recently received the first of two Dash 8-400 turboprops and is flying it to destinations such as Rabaul Airport, in the eastern province of East New Britain, where runway upgrading has made it difficult for Air Niugini Fokker jets to operate, an Air Niugini spokesperson says. The aircraft was chosen because the airline already operates the smaller Dash 8-300 and Dash 8-200 models, which have proven useful for the limited airport infrastructure and difficult terrain in PNG, the spokesperson adds.
Air Niugini's 74-seat Dash 8-400 is on lease from Nordic Aviation Capital (NAC), according to CAPA data.
The second Dash 8-400 is still being test-flown by NAC albeit in Air Niugini livery, according to aviation website Dash8World. It had been due to be delivered in late-February, but when Smart Aviation APAC spoke to the airline, it declined to comment when it would be receiving the aircraft.
Air Niugini previously operated Dash 8-400s, but stopped operating them in 2017 because the Fokker 70 jets it acquired in 2015 had better speed and range, local reports at that time said.
The spokesperson says it has yet to determine its wider fleet plan going forward. According to CAPA data, it still has four Boeing 737 Max 8s on order despite the MAX crisis, which are due for delivery from 2024. Other than the Dash 8-400, its current fleet includes two Boeing 767-300s, one Boeing 737-800, one Boeing 737-700, seven Fokker 100s, eight Fokker 70s, five Dash 8-300s and three Dash 8-200s, according to CAPA data.
Picture credit: De Havilland Canada
Edward Eng
Edward is based in Singapore. He writes stories on regional aviation across the Asia-Pacific region and has a background on covering socio-political issues. Edward holds a BA (Hons) in Philosophy, Politics and Economics from the University of Warwick in the UK.
Related posts
SUBSCRIBE TO OUR NEWSLETTER