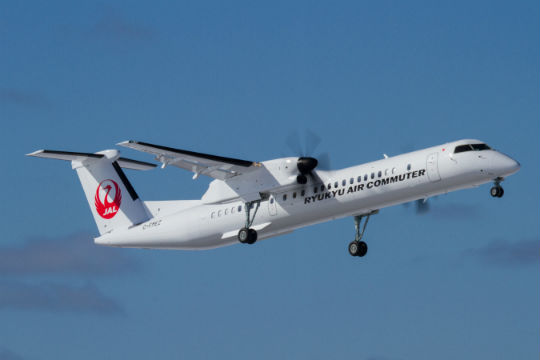 Japanese domestic carriers, that had already cut capacity in response to COVID-19, have slashed services further following the government's decision to impose a state of emergency in Tokyo and surrounding areas.
The state of emergency – that came into effect on 8 January in response to a spike in COVID-19 cases –  includes Tokyo and the neighboring prefectures of Kanagawa, Saitama and Chiba and means non-essential travel is discouraged.
Carriers have now responded by announcing further cuts to air services.
Embraer operator Fuji Dream Airlines, which is based in Shizuoka Prefecture near Mount Fuji, says it was planning to operate 410 return flights for the period 19-28 February but has now decided to reduce that by 76% to 96.5 return flights.
It says the capacity cuts are across 21 routes with the biggest reductions on the: Nagoya (Komaki)-Fukuoka, Shizuoka-Fukuoka and Nagoya (Komaki)-Hanamaki routes.
Ryukyu Air Commuter, which is based in the Okinawan Island capital Naha and operates De Havilland Aircraft of Canada Dash 8-400s, says it is reducing its schedule for the month of February by 26 return flights. The flight reductions comprise 13 return flights on the Okinawa-Kume Island route; three return flights on the Miyako Island – Tarama Island route, three return flights on the Miyako Island – Ishigaki Island route; and seven return flights on the Ishigaki Island-Yonaguni Island route.
Japan TransOcean Air, which operates Boeing 737-800s and is also based in Naha, says it is slashing 210.5 return flights in the month of February across its network. The biggest cuts will be on Okinawa (Naha)-Ishigaki route which will lose 48 return flights, Fukuoka -Okinawa (Naha) is losing 29 return flights, Okinawa (Naha)-Miyako Island is losing 22 return flights and Okinawa (Naha) – Kume Island is losing 21 return flights.
Oriental Air Bridge, which is based in the southern Japanese city of Nagasaki and operates De Havilland Aircraft of Canada Dash-200s, says for the period 8-21 February it is cutting: 42 return flights on the Fukuoka-Miyazaki route; 21 return flights on Nagasaki-Goto Fukue; 23 return flights on Nagasaki- Tsushima; and 21 return flights on Fukuoka-Goto Fukue.
New Central Air Service, which operates mostly from Tokyo's Chofu Airport and provides air services to islands in the Izu archipelago south of Tokyo using Dornier 228 aircraft, says "due to the impact of the spread of the new coronavirus infection and the decrease in demand due to the issuance of the state of emergency, some flights have been suspended from 20 January 20 to 7 February."
It says rather than announce further details publicly, it is contacting affected passengers individually.
Picture shows a Ryukyu Air Commuter Dash 8-400. Picture credit: Andy Cline.
Leithen Francis
Leithen is based in Singapore and has over 17 years' experience working for news organisations. He is the former deputy Asia editor of Flightglobal and the former Asia editor of Aviation Week. Leithen has a BA in journalism from RMIT University in Melbourne, Australia.
Related posts
SUBSCRIBE TO OUR NEWSLETTER