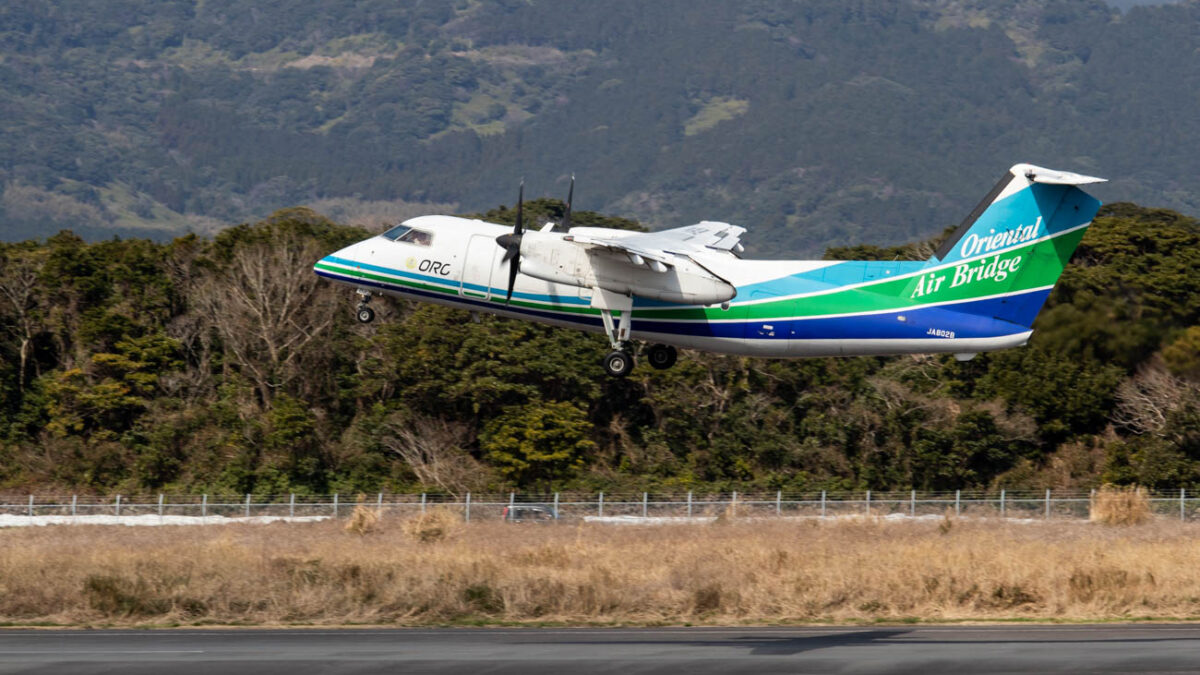 Japanese domestic carrier Oriental Air Bridge is replacing its 39-seat De Havilland Aircraft of Canada Dash 8-200 fleet with ATR 42-600s starting next year.
The Nagasaki-based carrier says in a statement it is adding two ATR 42-600s with the first to arrive next fiscal year and be deployed on the Nagasaki-Iki island, Nagasaki-Goto Fukue island and Nagasaki-Tsushima island routes. The Japanese fiscal year runs from 1 April 2022 to 30 March 2023.
The airline, which has three Dash 8-200s, says it plans to replace its Dash 8-200s 'one by one' and expects the new aircraft's higher capacity of 48 seats to help increase profits.
Besides the three Dash 8-200s, the airline also reportedly has three other aircraft including a De Havilland Aircraft of Canada Dash 8-400 it leases from All Nippon Airways.
The independent carrier, which serves mostly outlying southern islands of Japan, says: "Twenty years have passed since the introduction of the -200 type aircraft, that seats 39, and the design life [of the aircraft] has come to an end…so the 48-seat ATR 42 will be introduced as renewal equipment."
The airline fails to mention when the second aircraft will be added.
It says: "The ATR42-600 is an economical aircraft …and is suitable for operating the remote island air routes."
"[The ATR 42-600] is an aircraft that has already been introduced by regional airlines… and because it has more seats," it is expected to increase the airline's profits, it adds.
The Dash 8-200 has the same airframe as the -100, except that it has a more powerful engine, the Pratt & Whitney PW123, that gives it better short take-off and landing capability. Iki island's airport runway is only 1200m-long (3,937ft).
According to Planespotters.net's online database, the airline received its third -200 in October last year and its first and second aircraft in 2001. Its three -200s range in age from 20 years to 22 years.
Picture, from KN Aviation.net, shows an Oriental Air Bridge -200 taking off from Fukue island airport.
Related posts
SUBSCRIBE TO OUR NEWSLETTER